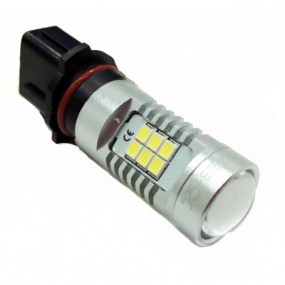 LED P13W
Bulbs Led p13w of maximum power. Ideal to install in the car, Audi, and Mercedes Benz, as the light of day. Led p13w high power. We have several brands and models of led bulbs to your car, check our catalogue with more than 2000 references.
The Led bulbs P13W are those designed to install as a light of day or day in the vehicles.
In our catalogue you will find our led bulbs P13W to equip your vehicle in a better light for a very affordable price, and this model of light bulb costs 12.99 a€, price per unit.
These led bulbs P13W are compatible with various vehicles of different automotive brands such as: Audi A3, Audi A4, Audi A6, Audi A8, Audi Q5, Peugeot 508, Chevrolet Camaro, Isuzu D Max, Mazda Atenza, Mazda 6 HID, Mazda CX5, Mazda CX7, Subaru XV, Hyundai IV30, Kia New Sportage, Skoda Yeti, Mercedes Benz C W204 FL, Mercedes Benz E W212 and Subaru XV.
The Led bulbs P13W have to 7.5 watts, and come with canbus technology to prevent the annoying failure of light cast on the box of the car.
The led P13W type 53 have a built-in heat sink, in addition to being made of quartz SMD-based ceramic for long-lasting durability.
This product of bulbs P13W type 53 leads led 4 COB and a lens High Powe able to transmit a large amount of light despite its reduced size.
The led bulb P13W type 53 of the brand Zesfor account with 450 lumens of light and is the perfect choice to put in your vehicle such as daylight or the light of day for the following features:
- Have a lower consumption with respect to conventional lights halogen, so that if we leave the lights of the car does not have to be afraid we have run out of battery.
- Improves the aesthetics of the vehicle as it provides a more modern look.
- Account with more visibility, thanks to the light provided by the led P13W we have better light on the road and, therefore, more security.
- Incorporates on its led, the new SMD quartz, guaranteeing maximum brightness and in color pure white.
- Built into the new Chip 1819549N able to distribute the voltage between the different diodes of led in a constant manner.
- Your base is ceramic so that the dissipation is much greater than in the case of conventional light bulbs, extending also its duration.
In Audioledcar we are experts in led light bulbs P13W type 53. Any questions with respect to this product, you can contact us through our website (www.audioledcar.com), live chat, email or phone.
You have doubts?
Here we explain in more detail

PRODUCTS IN THIS CATEGORY
3
Products in this category.
Preguntas y Respuestas de Clientes
Do you have questions about how to order?
Check out our video where we clarify all the steps: