Vogtland
Kit of springs and suspensions of the brand Vogtland. Undoubtedly a safe bet, and economic to improve the performance of our vehicle. Set up your car and get your price at the time.
How do you know which model to choose in the drop down? You need to look at the maximum weight supported by the car for the front and rear axle. We will choose the one...
Leer más
Seleccione el modelo de su coche
Los productos de la marca VOGTLAND se envían directamente desde fábrica con un tiempo de entrega de 7-10 días a península y baleares. No realizamos envíos a Canarias. No ofrecemos envíos a contrareembolso para estos productos. Si añade otros productos de nuestra tienda se enviarán por separado sin coste adicional.
Características Muelles y Suspensiones Vogtland®
Como bien sabemos, los alemanes son un gran referente en el sector del automóvil y entre sus marcas mas destacas podemos encontrar los muelles vogtland. Con muchos años de experiencia, se han convertido en grandes especialistas en suspensiones haciendo que su producto sea de una muy alta calidad, fiabilidad, y de altas prestaciones. Por ello es una opción muy interesante para para rebajar tu vehículo y ganar en deportividad.

Vogtland es una de las marcas con más experiencias del mercado (aparte de ser una de las que más sobresalen en calidad-precio) destaca en muelles, suspensiones deportivas y suspensiones roscadas, ofreciendo una amplia gama de opciones, cubriendo todas las demandas y necesidades del cliente. Sin duda, la mejor opción para tu vehículo.
Esta gran marca alemana oferta distintas opciones que se adaptan a cualquier tipo de vehículo y cliente. Aunque existen diferencias destacables entre los tipos de productos que oferta Vogtland.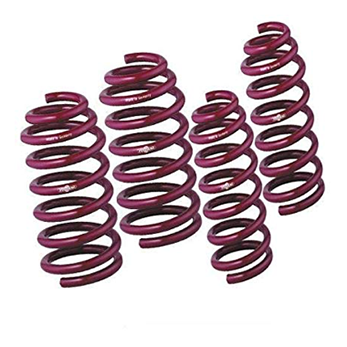 En primer lugar tenemos los muelles deportivos, estos muelles mejoran en dureza, rebajan la altura del vehículo y mejoran la entrada en curva. Perfectos para gente que busca una opción fácil de instalar y económica, su precio oscila entre los 100€ y 180€. Entre lo citado anteriormente, encontramos ventajas como que con ellos se reducen los movimientos bruscos en las frenadas, consiguen que la carrocería se balancee menos, mejoran la adherencia en carretera, y se consigue una mayor tracción en el eje motriz, por lo que podemos deducir que con estos muelles conseguimos una conducción más segura.
Por otro lado, su catálogo también nos oferta la opción de adquirir una suspensión deportiva Vogtland. Esta opción es la más vendida, con este modelo conseguiremos rebajar la altura del vehículo entre 3 y 4 cm, aumentando también bastante en dureza. Esta opción es perfecta para circuito y ciudad, ya que mejora la estabilidad y conducción de cada vehículo.

Con ella conseguimos una sensación más deportiva, para poder sacar el máximo rendimiento a tu coche. Esta suspensión costa de muelles y amortiguadores adjuntando además un certificado para poder homologar y de esta manera poder pasar con ellas la ITV sin problema y circular legalmente. También destacar que esta suspensión deportiva hace más estética la visión general del vehículo, además, por supuesto, de ganar estabilidad y seguridad en las curvas.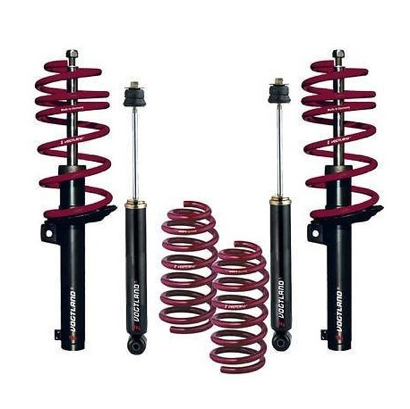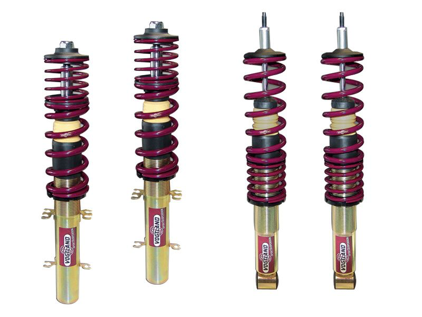 Como tercera opción encontramos la suspensión roscada Vogtland, pensada para el cliente más exigente y que busca encontrar el límite de su coche. Con esta suspensión además de mejorar en los aspectos anteriormente descritos (dureza, estabilidad, conducción más deportiva…) tenemos la opción de regularla en atura disponiendo así de una suspensión polivalente. Dispone de un sistema para elegir la altura que más nos guste y que más se adapte a nuestras necesidades a la hora de conducir.
En su mayoría, estas suspensiones y muelles Vogtland cuentan con la verificación TÜV (Technischer Überwachungs-Verein), que se trata de una verificación que indica que el producto ha pasado con éxito las pruebas relacionadas en calidad y seguridad. Este certificado supone para el comprador una gran ventaja a la hora de decidir comprar este producto pues estas pruebas las realiza una entidad externa y neutral, además son realizadas en 75 países. Hay que destacar también que esta certificación hace más fácil los trámites de la homologación. Para poder homologar este tipo de suspensiones y muelles necesitamos, en primer lugar, el certificado mencionado anteriormente (que certifica que las características de las suspensiones son acordes al vehículo), un certificado de montaje de taller el cual va a garantizar el montaje óptimo de la suspensión y/o muelle. Aparte de lo citado anteriormente, también debemos acudir a un ingeniero para que realice el proyecto de reforma y, en último lugar, deberemos acudir a la ITV para que nos metan en ficha técnica del vehículo la suspensión.
Resumiendo, el precio de estos productos suele ser bastante asequible para las grandes ventajas que proporciona.