BLACK FRIDAY - FREE SHIPPING + EXCLUSIVE DISCOUNTS
Hoses Hel
Hoses Hel Performance
Patch cords metal hel performance car. Improves up to 20% the braking of your car, increases in security. Receive your patch within 24 hours in your house.
Seleccione el modelo de su coche
La marca HEL Performance se envía directamente desde fábrica con un tiempo de entrega de 24/48 horas a península y baleares. No realizamos envíos a Canarias. No ofrecemos envíos a contrareembolso para estos productos. Si añade otros productos de nuestra tienda se enviarán por separado sin coste adicional.
Latiguillos Metálicos Hel Performance
Los latiguillos Hel Performance dan una respuesta de frenado mucho mejor evitando el efecto "esponja" y fatiga de los manguitos del freno en cualquier situación extrema. Muy recomendados si queremos tener una frenada con alta precisión y sin sorpresas. Ideales para la competición o pequeños aficionados. Los latiguillos Hel Performance sustituyen el sistema original de goma por un nuevo sistema mejorado. Están fabricados en acero inoxidable para evitar la corrosión, un tubo de teflón recubierto por mallado metálico trenzado y un soporte de los racores sobre los que prestamos las líneas. Por estos motivos los latiguillos metálicos Hel Performance son los mejores del mercado para conseguir una precisión de frenado absoluta.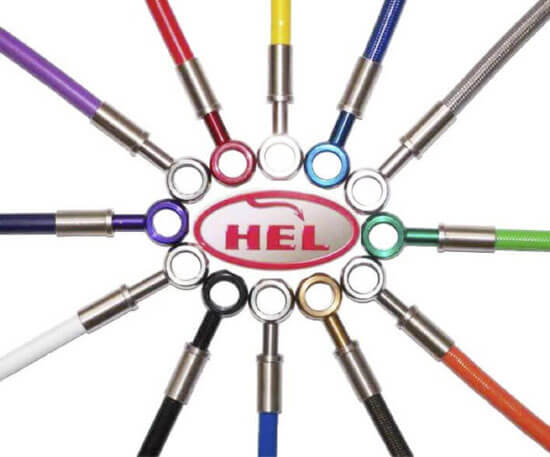 Los latiguillos metálico Hel Performance están hechos a medida para cada vehículo cumpliendo todas las especificaciones y normativas del mercado. De esta manera se garantiza el aspecto, la calidad y el rendimiento óptimo de todo el sistema de frenado.

Los latiguillos metálicos Hel Perfomance están diseñados y fabricados en Reino Unido utilizando los mejores materiales del mercado (acero inoxidable y titanio). Con una trayectoria profesional de más de 10 años, Hel Performance se ha convertido en líder mundial en el diseño y fabricación de latiguillos metálicos estando presentes en más de 80 países. El combo de latiguillos metálicos junto con los frenos y pastillas EBC son una apuesta segura a la hora de incrementar la eficiencia en frenada.