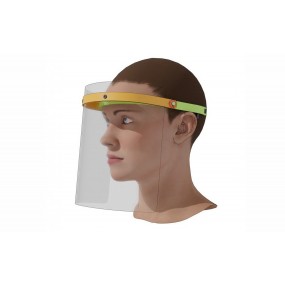 Sun visors shield for work
Today it becomes very normal to see people with visors, protective, masks and gels disinfectants to go to work, when you go down the street or to buy. And is that, in the times that run, every precaution is little to avoid contracting the virus Covid-19. Therefore, in Audioledcar, we have decided to join this initiative of the security and in our online shop we offer visors protective high quality at the best price.
Buy visors protective for the job
In Audioledcar, we offer visors protective for workers with a high quality of the brand DGA, specialists in plastics since 1988, at a very good price. They are very comfortable and fully adjustable, so if you have a job in which you have to do many movements such as replenishing merchandise, etc, your screen protective face did not move and will ensure a good grip and protection. In addition, they are perfect for when you have to sit for hours exposed to the public.
Since the visors protective gloves are disposable, in our online catalog we offer a kit of 10 visors protective of great quality at a very economical price and visors, protective individual. Take a look and choose the screen of facial protection that suits you best according to the job you have, and depending on the use you give to avoid getting the Covid-19. We are sure you will give them a lot of use.
What are the visors protective?
The screens protective facial have the main function to avoid the splashes that are expelled by speaking, sneezing or coughing, transmitted by the air. This fact helps to not contagious and does not spread to others.
In this case, our visors protective they are of mark DGA® and high quality. In addition, they are very comfortable, fully adjustable and ideal to protect themselves in these times.
Why use visors protective work?
The use of visors protective for work is becoming more and more common among the population. As you already know, its use is especially recommended to those people who for reasons of work or other circumstances, are daily exposed to the virus Covid-19, as can be the case of health professionals.
However, the facial displays protective they are also useful in other sectors, as well as for those workers in hotels, retail, restaurants and any other sector that is working in direct contact with the public.
And as you will know, the coronavirus is mainly transmitted through the air. Hence, the use of visors protective work is so recommended. In this way what we get is that splashes that occur and are expelled by speaking, coughing or sneezing, are not transmitted to others through the air, making anyone who wears not be able to spread to the rest or it may pass to him.
Another advantage is its sanitation, as the visors protective against the coronavirus makes it easy to disinfection with alcohol-health. However, they are protective disposable so that it is recommended not to re-use them in excess. On the other hand, are very durable, lightweight and adjustable to the head.
Is it better to wear a mask or a face shield?
The use of the sun visors protective for the job has never been mandatory, however, the use of the mask itself. For this reason we consider that the screens facial protective for workers are complementary to the masks. This ensures a higher degree of protection against Covid-19.
Where to buy visors protective quality to work?
In Audioledcar you can buy visors protective to work in great quality at an unbeatably low price. Take a look at the options that we offer in our catalog and get the screens protective that best fit your needs.
You have doubts?
Here we explain in more detail

PRODUCTS IN THIS CATEGORY
2
Products in this category.
Preguntas y Respuestas de Clientes
Do you have questions about how to order?
Check out our video where we clarify all the steps: