Kit Hidroimpresión professional for any person. Includes everything needed to perform hidroimpresión on moldings of the car, grills, mirrors, tires, spoilers...
Product customization
Don't forget to save your customization to be able to add to cart
Do you have any questions about this product?
ASK US
VIDEO
Kit Hidroimpresión professional
You are ready? We explain step by step how to perform hydroprinting at home. Become a hydromaniac thanks to our hydro-printing kits do it yourself at home.
Kit Hidroimpresión professional
Kit hidroimpresión professional is the kit more complete ideal to make hidroimpresión in your home without any technical knowledge. Includes everything needed for the initiation into the world of the hidroimpresión.
The Kit hidroimpresión professional includes:
Detailed Manual
Base, 2 color to choose (white, black, wood, gray)
3 Lacquer to choose from (matte or gloss)
8 sheets of hidroimpresión to choose
Activator
Tape masking
2 Gloves
2 Mask
2 Sandpaper
NOTE: The only thing that is not included in the kit is a bucket/pail to submerge the piece. We recommend to purchase in any store or bazaar that is transparent. The price of these cubes is usually around 8-12€. When ordering indicate the foils and lacquers that are desired.
Steps to use our kit hidroimpresión professional
The hidroimpresión may be made by any person, it is not necessary to have any technical knowledge.
Clean the piece to decorate with hidroimpresión and paint it the desired color (the base has to be white or grey for a perfect finish)
Fill a bucket of water to 25-30°C.
Put some masking tape on the foil.
Put the sheet of hidroimpresión in the water. If there is any bubble to slide it to the ends with the tip of your finger. Wait 90 seconds.
Sprinkle the foil with the spray activator and wait 10 seconds.
Introducing the piece to decorate slowly and the water.
Leave the piece in water to remove impurities.
Leave to dry the piece and then apply the lacquer.
NOTE: if we wrong our kit hidroimpresión professional no problem. We will use the sandpaper that comes in the kit to sand the piece and start again. It's that easy.
Specialists in kit hidroimpresión professional any questions contact us
Do you have questions about how to order?
Check out our video where we clarify all the steps:

Product ratings
Kit Hidroimpresión professional
Excelente producto y servicio

De maravilla,es fácil y de calidad

bien completo in la calida de la imprimacion excelente

Un poco dificil de aplicar, por lo demas bien.
RELATED PRODUCTS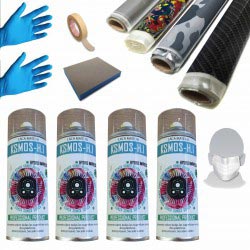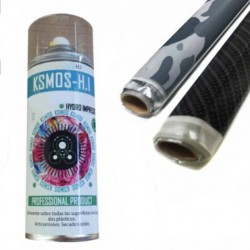 Customer Questions and Answers